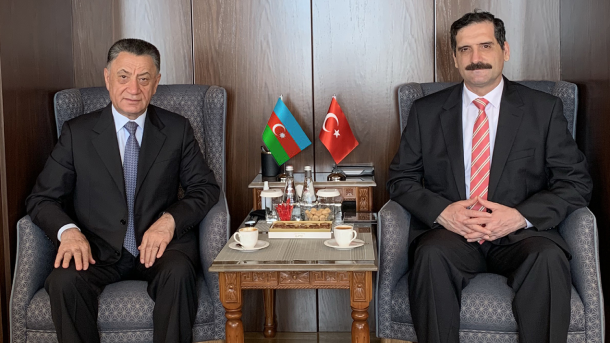 09.04.2021
By the Service of the Secretary of the Security Council of the republic of Azerbaijan
On April 9, 2021, the secretary of the Security Council of the Republic of Azerbaijan, Colonel-General Ramil Usubov has received Ambassador Extraordinary and Plenipotentiary of the Republic of Turkey Erkan Ozoral on the occasion of the completion of his diplomatic mission.

Ramil Usubov noted with satisfaction that relations between our friendly and brotherly countries are at the highest level in various directions, including political, economic, legal and security areas, and said that these relations serve to strengthen peace and stability in the region and the world as a whole.
They spoke about the brotherly and friendly relationship between the President of the Republic of Azerbaijan, His Excellency Mr. Ilham Aliyev and the President of the Republic of Turkey, His Excellency Mr. Recep Tayyip Erdogan, that had made a great contribution to the cooperation of the two countries.

It was noted that the political and moral support provided to our country by the Turkish leadership and people from the first moments of the Patriotic War, and the firm and unequivocal position on a fair solution to the long-running conflict between Armenia and Azerbaijan played a decisive role in our victory.
Colonel-general Ramil Usubov emphasized the services of the Turkish Armed Forces in improving the professionalism of servicemen of the Azerbaijan Armed Forces, conducting joint exercises and other achievements. The secretary of the Security Council thanked Mr. Erkan Ozoral for his contribution to strengthening bilateral relations and wished him success in his future endeavors.

Expressing gratitude for the warm reception and kind words, the Ambassador said he would spare no effort to expand relations between the two brotherly countries in his future activities.
The sides also exchanged views on other issues of mutual interest.